This year's trip to the National March for Life has been canceled. We hope to see you in 2022!
If you'd like to purchase the 2021 March for Life Hoodie, please call the office at 260-471-1849 or come to the Prayer Gathering at Abundant Life on Jan 23rd.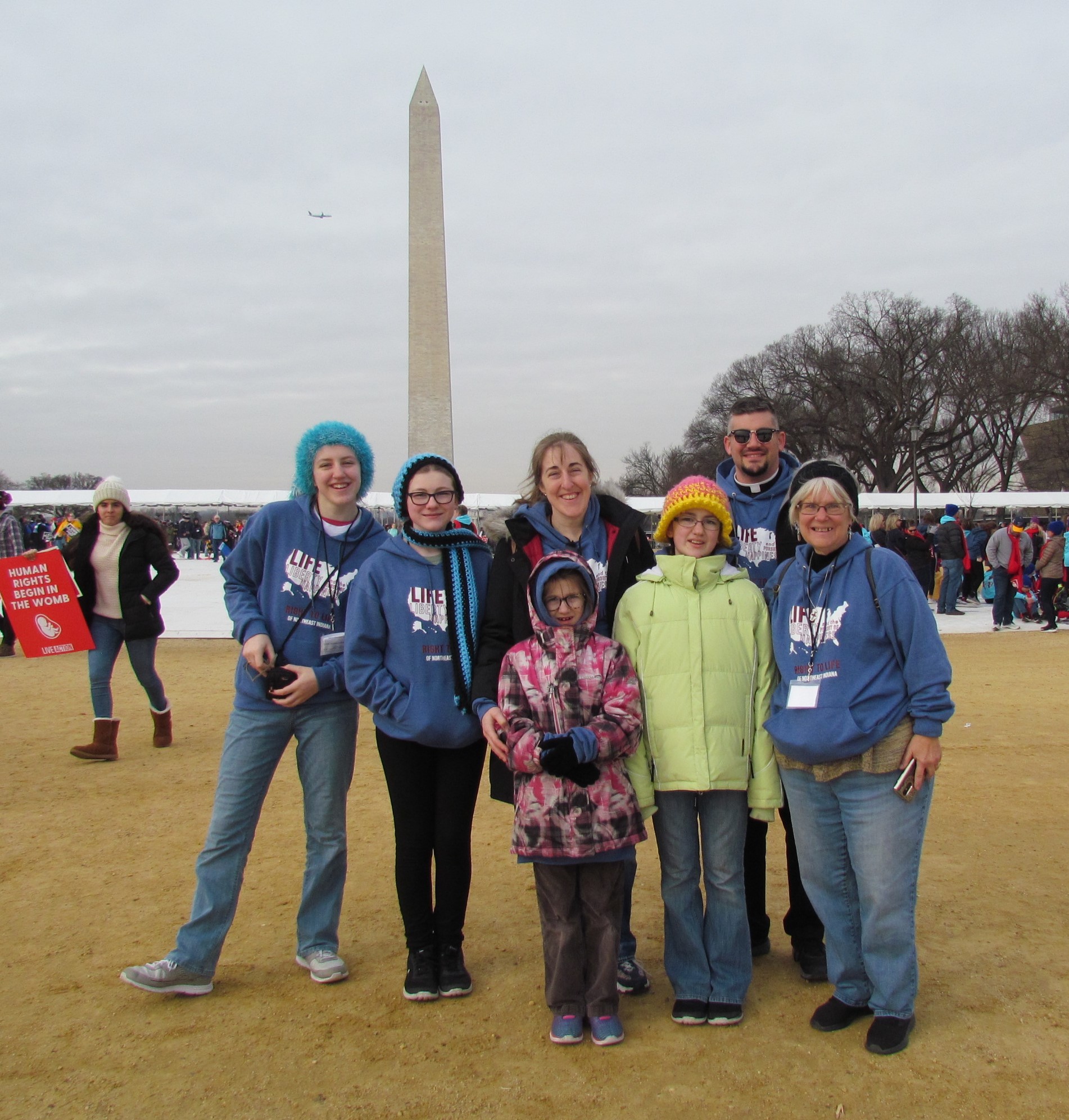 This year we are again offering our family trip to the National March for Life, open to the general public. Help make this trip a success so we are able to offer it in years to come. This trip is typically separate from our Life Defenders High School trip but this year because of lower numbers due to COVID we are combining the two trips plus the trip from St John Bingen. 
Please check your temperature the two days before as well as the morning the trip departs to be sure you are not symptomatic. We will not be able to take participants who are sick with us on the trip.
Itinerary - Please see the bottom of the page for details. The bus will leave from Fort Wayne, IN the morning of Thursday, January 28th and return the evening of Saturday, January 30th. The National March is Friday, January 29th. The 2 nights in Washington DC will be in a hotel near the White House. Some meals will be covered by RLNI and some meals will be up to the individual. $35-$45 typically covers individual food costs.

Price - Your registration fee is based on what type of hotel room you're in and how many people you have with you in your room. Please call the office or email abigail@ichooselife.org for price points on this year's abnormal trip. If you have your own accommodations in DC (such as staying at a friend's house) or you are sleeping on the floor of another registered participant's room, the fee is $245. Unless otherwise specified, the registration fee includes the bus, driver tip, hotel room, hotel breakfast, Metro Pass and 2021 March for Life Hoodie.
Registration - If you are unable to go because of sickness, your money will be refunded to you. The registration deadline has passed but there may still be seats available. Please call to find out.
Cancellation Policy - We hope you don't have to cancel your registration for the awesome trip but if you do: Cancellations before Dec. 15 receive a full deposit refund. Cancellations before Jan. 1 receive 75% deposit refund or 100% if you find another to fill your seat. Cancellations between Jan 1 and the trip receive 50% deposit refund or 100% if you find another to fill your seat. Cancellations at any time due to medical events or family emergencies will receive a full refund. If you have any questions about this, please call us.
Pay your Balance - Due Jan 20th. Call Abigail (260-471-1849) if you're unsure of your balance.
Itinerary - PLEASE READ CAREFULLY AS THERE HAVE BEEN SIGNIFICANT CHANGES.
Learn more about the National March for Life by visiting: March for Life 2021