Join hundreds of thousands of pro-life advocates as they March for Life in Washington, D.C.!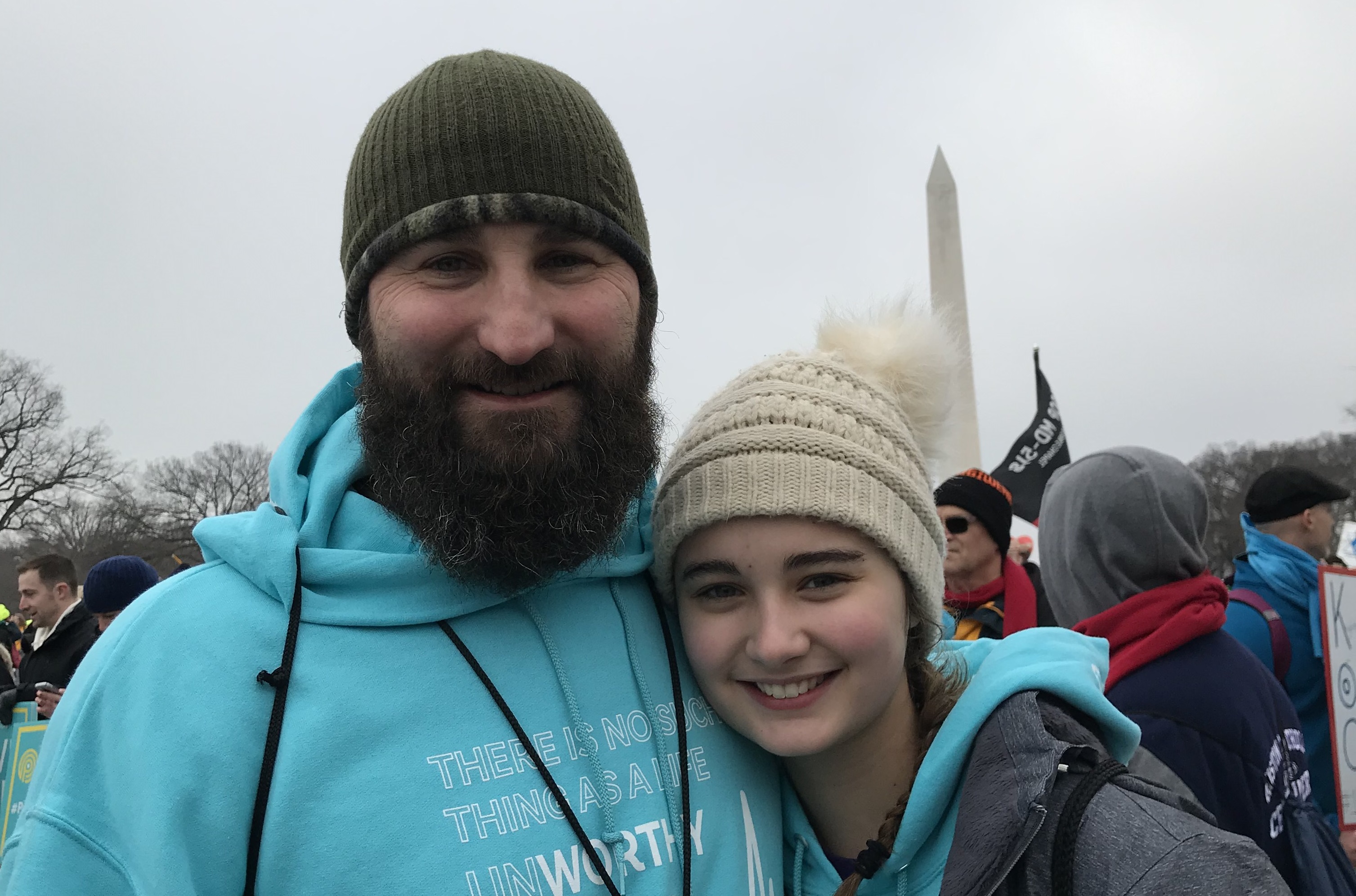 Enter for the Family Trip Giveaway!
 Drawing will be January 18 at 6pm.
This year we have a unique opportunity to take a bus to the National March for Life, open to the general public. This trip is separate from our Life Defenders High School trip (students visit www.ichooselife.org/dc).
Registration is now open! Please see link below to submit your deposit and reserve your seats on the bus!

Itinerary - Please see the bottom of the page for details. The bus will leave from Fort Wayne, IN the morning of Thursday, January 23rd and return the evening of Sunday, January 26th. The National March is Friday, January 24th which leaves Saturday open for sight-seeing or conferences. The 3 nights in Washington DC will be in a hotel just outside of DC. Participants will be using the MetroRail system to travel between the hotel and the National Mall (fare card provided). Breakfast will be offered at the hotel each morning -all other meals are up to the individual. See below for more details.
Price - Your registration fee is based on what type of hotel room you're in and how many people are in it with you. For a king hotel room, shared with another registrant (ie your spouse or travel companion), the fee is $330 per person. For a king hotel room to yourself, the fee is $480 per person. If you have your own accommodations in DC (such as staying at a friend's house) or you are sleeping on the floor of another registered participant's room, the fee is $180. Unless otherwise specified, the registration fee includes the bus, driver tip, hotel room, hotel breakfast, Metro Pass and 2020 March for Life Hoodie.
Registration - You'll be asked to put down a $100 deposit to secure your seat. You will pay the balance of your fee a week before the trip.
Cancellation Policy - We hope you don't have to cancel your registration for the awesome trip but if you do: Cancellations before Dec. 15 receive a full deposit refund. Cancellations before Jan. 1 receive 75% deposit refund or 100% if you find another to fill your seat. Cancellations between Jan 1 and the trip receive 50% deposit refund or 100% if you find another to fill your seat. Cancellations at any time due to medical events or family emergencies will receive a full refund. If you have any questions about this, please call us.
Step 1: Family Trip Submit Payment Here
Step 2: Submit Information Form Here
Learn more about the National March for Life by visiting: March for Life 2020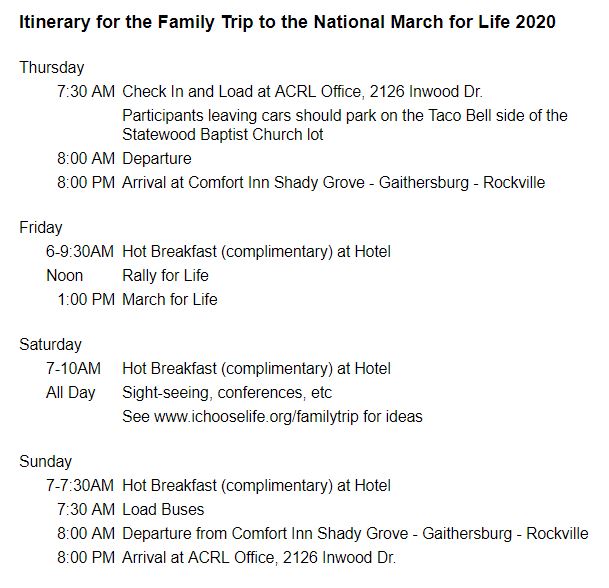 Looking for ideas for things to do on Saturday in DC?
Start Here
Packing List
Things to do on the bus rides - book, phone and charger, headphones, earplugs etc. - in a backpack that you can use for sight-seeing
Snacks and water for bus trip and sight seeing
Bible - for Sunday morning reading on the bus ride home
Auxiliary phone battery (especially if you know you want to use your phone as a map or for videos)
Your 2020 Family Trip Hoodie - available for pick up at the local March Jan 18 or when you load the bus Thursday morning
Comfortable clothes for bus ride
Warm layers for March and sightseeing (a pair of jeans that will fit over a pair of leggings or tights, tank top under a long-sleeve shirt under your hoodie under your coat)
Warm socks and good walking shoes - my favorite is a pair of duck boots with cold-weather camping socks
Hat, scarf, mittens, sunglasses
Sleepwear, toiletries and other normal over-night items
Bedding if you're on the hotel floor.
Wallet, phone charger
Prescription meds, OTC pain meds like ibu or tylenol, Dramamine or Seabands (if you get motion sick)
Map - we will provide you with one of the National Mall area. Your hotel will have some to pick up as well but if you are a paper-map person you might consider stopping in to AAA or getting a tour guide book from the library.