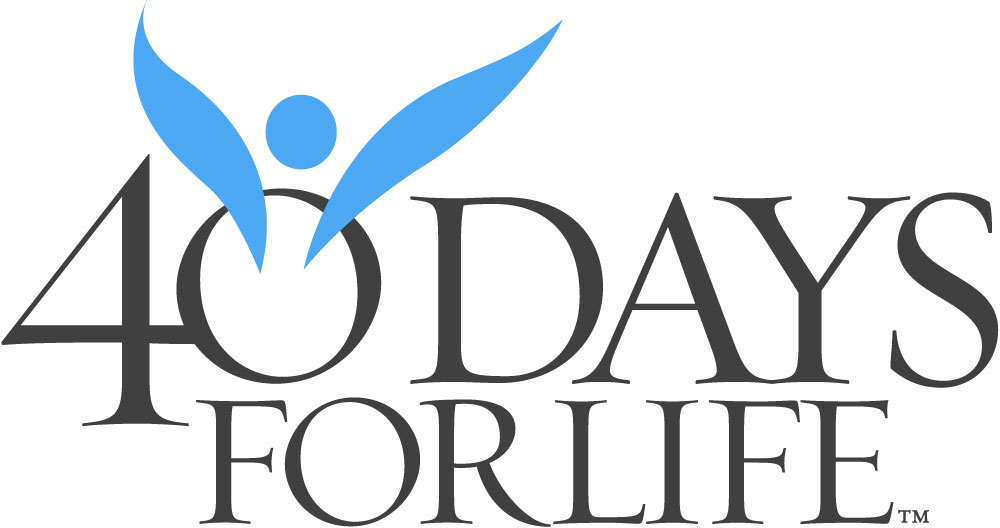 September 25th to November 3rd*
40 Days for Life is a community-based campaign that takes a determined, peaceful approach to showing local communities the consequences of abortion in their own neighborhoods, for their own friends and families. It puts into action a desire to cooperate with God in the carrying out of His plan for the end of abortion.
What can you do to help end abortion?
Pray and fast. Located in front of Planned Parenthood on 2930 Inwood Drive. 
Spread the word. Invite your friends to pray with you.
Register your church to fill a day of prayer, 8am-8pm.
Support this ACRL project with your financial gifts.
This year's prayer focuses:
Thanksgiving for Allen County being abortion free at this time.
Remembering the unborn boys and girls who were aborted here.
Healing for the mothers and fathers and extended families of the children aborted here.
Asking God to keep Allen County abortion free and to extend that status across Indiana and the country.
You will be prompted to create a login. The only thing you have to enter is your name. If you enter your email you'll get a confirmation of your time and if you enter your phone number we'll be able to reach you more easily for 40 Days in the future.
*Update: Due to the recent passing of Dr. Klopfer and the opening of a new Planned Parenthood on Lake Ave (2930 Lake Ave), our campaign will be shifting to a location near PP. Click below for vigil location and parking information. 

 Ask if your church is sponsoring one of the 40 days and sign up for a time to come pray with us. Location TBD. If your church hasn't registered, contact us and we'll help you set it up.
 Not sure how to pray for an hour? We'll help you! We have prayer guides/intentions available for you to use. Consider coming and reading your Bible, meditating and praying on the passages you read. Let God guide your heart as you witness to His love for His creation.
Have questions or doubts about participating? See the solutions to common hurdles keeping you from being part of 40 Days for Life: 
Problem: I've never done this before. I'm not sure what to expect.
Solution: Give us a call – 260.471.1849. We're happy to give you the run down. Also check out what 40 Days says about their campaign: https://40daysforlife.com/mission/ 
Problem: Why are we even doing 40 Days? We don't have an active abortion clinic. Solution: And we are so glad that that is the case! However, we don't live in a vacuum – other communities do have active abortion clinics and Allen County women are going to them for abortions. Our prayer focuses this year are:
Thanksgiving for Allen County being abortion fee at this time.
Remembering the unborn boys and girls who were aborted here.
Healing for the mothers and fathers and extended families of the children aborted here.
Asking God to keep Allen County abortion free and to extend that status across Indiana and the country
  Problem: I work all week and the only day I have off is Saturday and that's my errand day.  Solution: More power to you! Keep working hard and getting things done! Challenge yourself to make an hour gap in your errand running to talk to God and advocate for the unborn. Try plotting out your errands so that they take you past the 40 Days site in your area. Even if you can only stay a half hour, it makes a world of difference. 
Problem: I don't know how to pray for an hour! I'm not very good at praying. Solution: You aren't alone in this! Unfortunately not all church traditions focus on teaching their members how to pray. Thankfully, God designed us to be good at talking and talking to Him is exactly what praying is. Will your mind wander? For sure! Everyone's does. Refocus, and keep going. Wondering what to talk to Him about? Spend a few minutes before you come and make a list of things an people to pray for. Read a Bible passage and pray off of that. Like anything, praying gets easier with practice and 40 Days is the perfect place to do that.  
Problem: I can't stand for very long or walk very far. Solution: That's okay! Have a folding chair at home? Toss it in the trunk of your car and bring it with you! If you're unable to carry a chair, ask someone from church to carpool with you and help you out. That person could drop you off and pick you up at the grassy area where we'll be standing. 40 Days is about building community, you can do this in your personal life as well and help people be more active in this very worthy cause.   
Problem: Bad weather is hard for me to go out in. Solution: Pray from home! Prayer isn't limited by your location. Sign up for a time and make a note, or let your coordinator know, that you'll be praying from your home or your church because you're physically unable to come to the 40 Days site. We're still happy to have you joining with us, even if we can't stand next to you while you're doing it. Be careful though! The Devil is wily and will try to distract you, telling you that the hour of prayer at home doesn't need to happen right now, is uninterruptible, or can be cut short. Don't listen to those lies. If you sign up for an hour, complete the hour in good faith.   
Problem: I'm too young. Solution: False. There is no such thing. Many times the younger the witness, the louder it resounds with the people being witnessed to. Read Matthew 18:1-14, and 1 Timothy 4 especially verse 12 for encouragement.   
Problem: It doesn't make any difference if I'm out there or not. Why waste my time? Solution: First, realize that this is a lie from the Father of Lies, Satan. James 5:16 says "16 Confess your trespasses to one another, and pray for one another, that you may be healed. The effective, fervent prayer of a righteous man avails much." No matter how many people are standing out at the 40 Days site, your presence there makes a difference as do your prayers. We can't see the opportunities God has planned for us in this life. Don't miss one by believing the guy who is trying to tear you away from God's love.  
Problem: I'm worried about confrontation. Are people going to yell at me (and my kids)? Solution: Probably not. 40 Days is a peaceful prayer vigil which doesn't insight much negative feed back. This world is full of confrontation but not all confrontation is bad. If someone says something or makes a gesture that is rude, smile back and then continue on praying. Your peaceful presence and kind response might make them rethink their stance on abortion.