On August 10, 2021, Judge Sarah Evans Barker of the US District Court of Southern Indiana handed down a Permanent Injunction against several areas of Indiana code in a lawsuit brought by the unlicensed abortion business, Whole Women's Health. This struck down common sense safety restrictions as well as important pieces of informed consent language. Because of this, chemical abortion numbers will drastically increase and women are put at even more risk through loosely regulated pill abortions. You can see everything she enjoined here.
*UPDATE: On 9/8/21 an emergency stay was granted, meaning the current, long standing laws will remain in place while the lawsuit moves further in the courts.
But you can make a difference in Northeast Indiana!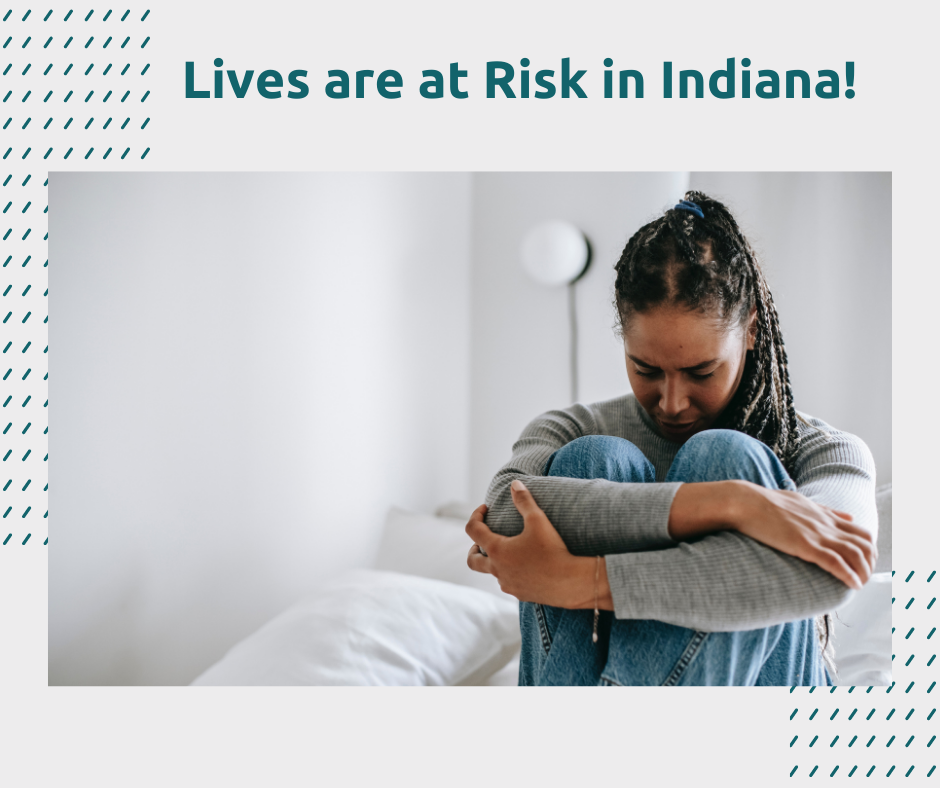 It is time to stop being a wall-flower in the prolife movement and jump in with both feet to save children and their mothers. The pro-"choice" movement is not about choice at all. If it were, information like what was scratched out by Judge Barker, would be made widely known! Instead, she decided facts about when human life begins, when a fetus feels pain, and mental health after aborting a disabled child verses carrying to term, don't need to be shared with women as part of the informed consent and general handouts. Women are being lied to.
They're being kept in the dark about what abortion really is and what it really does.
Rescue them.
Become a Sidewalk Advocate - We'll train you to have compassionate, helpful, winsome interactions with people going into Planned Parenthood. We need at least 2 people outside to offer help during every business hour. Sign up for training here.

Sponsor a Sidewalk Advocate - Not able to be a Sidewalk Advocate yourself? Sponsor one for $15/month . It's a small price to pay to see babies and mothers saved and clients directed towards services at life-affirming clinics. www.ichooselife.org/donate
Start a Prayer Campaign - Regular prayer during weekly services for mothers and their unborn children is immensely helpful. You can also hold a special Prayer Service focusing on the sanctity of life and asking God to turn the hearts of parents to their children.
Write Letters to the Editor - Write a short piece for your local newspaper. We are happy to help you draft, edit and submit. Also consider submitting one as a group (ie as a Bible Study group).
Sign the Petition - Don't want an abortion clinic in Northeast  Indiana? Sign our petition and pass it along. The more signatures, the stronger our voice.
Build a Prayer Chain -  Participants form a "chain" along the sidewalk in a high traffic area, pray and hold life-affirming signs for an hour or two on a particular day. These work both through the power of prayer and by being a public witness to passers by. We'll help you plan and execute this event, just give us a call, 260-471-1849.
Host Presentations - Our staff can speak on a variety of topics, especially the sanctity of unborn lives, during services or the normally scheduled Bible Study hour. Book a speaker here.
Show the Loss - Cross Project - RLNI provides crosses and banners for a display in your church or business's yard, showing the number of children from your county who were lost to abortion in the previous year. The banners also include a help line number for those scared or hurt by abortion. Email or call us and we'll get you set up.
Pick and hour of 40 Days for Life - People can sign up for an hour to pray outside of the Fort Wayne Planned Parenthood whenever its convenient for them. Churches can also "sponsor" days and encourage their congregants to spend an hour in prayer that particular day. We have Fall and Spring campaigns but love to see people out there year-round. 
Pass This Page On! - We love that you're here reading this, we want your friends to read it too.

Sign the Petition and pick one of these things to do now.
And then come back next week and pick another.