Indiana Releases Abortion Statistics for 2022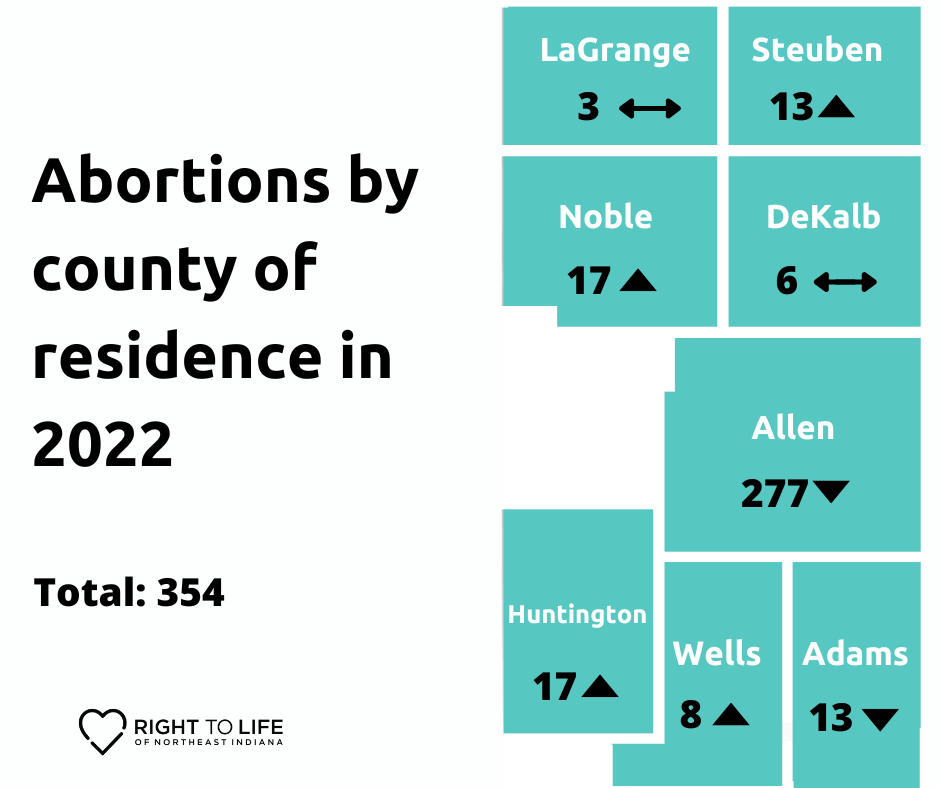 The Indiana Department of Health recently released the 2022 Annual Report on Terminated Pregnancies. The report lists the county of residence that the mother gave when obtaining the abortion. Thankfully abortion numbers in our region from 401 in 2021 to 354 in 2022, an 11% decrease. Allen and Adams numbers dropped, while DeKalb and LaGrange stayed the same. Steuben, Noble, Huntington, and Wells all saw an increase in abortions. Unfortunately, Michigan is currently seeing an increase in abortions from out of state. Our Sidewalk Advocates have been reporting that our abortion referral clinic, Planned Parenthood in Fort Wayne, has been sending some women to Michigan. 
A report on complications for 2022 provided an agonizing look into the abortion industry. Last year, 100 reports were filed, a 525% increase from the 16 in 2021. The reports were filed for different complications including: uterine perforation, cervical laceration, infection, vaginal bleeding, failure to terminate the pregnancy, incomplete abortion (retained tissue), and psychological complications including depression, suicidal ideation, anxiety, and sleeping disorders. The most heart-breaking of all is the one death reported. Also, 29 reports were either unknown or weren't categorized. In addition, hospitalization was required in 2 cases, as well as, surgical intervention in 58 cases. 
The most heart-breaking of all is the one death reported.
Of the 100 complications, 4 were from women from Allen county. What all this information shows us is we have much work to do here in our region and state. While we remain hopeful that the courts will allow the new Indiana law to take effect and close abortion clinics, we recognize between 300-400 women seek abortion from our area each year. Those women in crisis won't cease to need our help if abortion is stopped in Indiana. Our ultimate goal is not only to make abortion illegal, but to make it unthinkable. 
Ways to help: